Kenneth&Mock™ provides an exceptional system that defines convenience with PremiLine. The structure of PremiLine offers many benefits – from extremely smooth running sliding doors to extra durability. Special heavy duty wheels ensure that the doors run smoothly when closing and opening.
Also, PremiLine comes with a thicker profile for doors and windows presenting an immense array of possibilities while enforcing stability and easily achieving large panels with a problem. The all-new curved corner design gives each door a sleek modern look.
PremiLine not only provides countless of other properties with long service life and reliable operation but also makes the most comfortable sliding door system easily within reach.
ADVANTAGES
Sliding windows and doors can be combined over large glazed areas
Compatible with all 70 mm standard systems
Easy integration of available coupling and extension profiles, sill extenders, and other ancillary parts
Outer frame can be welded or connected mechanically; the result is easier individual installation of windows and doors, also for site installations
Injection moulded spacer for fixed sashes
Rails of high-quality aluminum
Sliding frame rebate cover
Sloped rebate for in-frame draining
Easy and smooth-running
Distinctive design based on triple chambered sash profiles
Consistent five chamber technology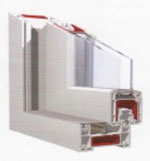 The standard door with interlock profile presents greater stability than today's doors
Additional module for enhanced static properties
[album id=6]