Kenneth&Mock™ now offers window films to protect you from natural hazards, accidental damage and human threats.
Window films use durable polymer film and touch adhesive to create a functional "safety net" that keeps glass intact in the face of threat in the home or workplace.
Safety Film
Holds broken glass together, lowers liablility and risk of injury.
Security Film
Gives additional resistance to "smash and grab" theft
*depending on film thickness as preferred by homeowner.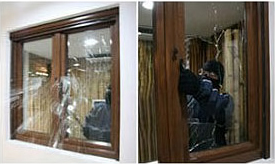 Glass that is not covered with security film makes it easier for burglars to smash and grab interiors.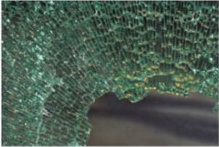 Bomb Blast Film
Demonstrating effectiveness against blast loads
*provided that proper window systems are used
Solar Film
Various kinds of solar films provide different comfort and elemental protection.
The Kenneth&Mock™ Solar Film reduces solar heat by upto 50% giving you comfort while your cooling costs go down.
Frosted Film
protects your visibility while bringing in light from the outside.