Two years in the making and three years later, the owner asked us to visit the beach house just to give it that final HL Designs touch.  Together with the project-in-charge back in 2013, Ar. Kristin Ducao and I set sail at 5 in the morning for Ormoc.  Then took a 2-hour drive to Talahid, Biliran Province where the house is perched on a cliff-side property overlooking the sea.
It was so refreshing to see the house lived-in and beautifully maintained after 3 years!
Sharing some of my favorite features of this beach house.
THE FOYER.
Notice the intricate laser cut-out details on the ceiling. As of press time in 2018, they are no longer readily available from our supplier in Cebu.
THE OPEN PLAN.
The open plan of the living, dining and kitchen space makes it conducive for family bonding. The fabric coordinates, the comfortable sectional sofa mixed with a variety of seating from ottomans to arm chair, the wooden tables brought together with the sisal rug under, the choice of accessories –they all just went together so beautifully!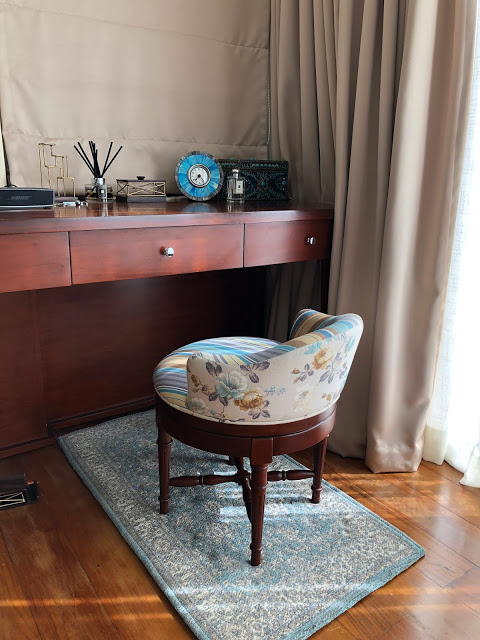 THE DRESSER.
I love that cute dresser chair upholstered in a mix of florals and stripe fabric with turned wooden legs. But there is an even more amazing feature about this dresser.
THE VIEW.
The window in front of the dresser opens up to that gorgeous view of the sea and Dalutan island. Having natural light in front of the dresser is the best source of light for doing make up during the day.
THE MASTER VANITY.
I've almost forgotten how thoughtfully planned, designed and fun this master bathroom is –his and hers vanity for convenience with mirrors directly above and a glass slit in the middle to let the view and natural light in. The vanity looks like a chest of drawers but those are actually just cabinet doors that open up to storage below.
Project completed in 2015.
Project-in-charge: Ar. Kristin Ducao
Architect & Contractor: Client's relative
Location: Talahid, Almeria, Biliran Province
Kitchen contractor: Siematic
Windows: Kenneth & Mock
Furnitures: Pottery Barn, Bespoke, Sara Woodcraft, Triboa Bay, Holicow, Dedon
Tiles & Bathroom Fixtures: Filmon Hardware